Keep Left at the Fork is Leslie's 9th studio album. It was created as a magical working, designed to be listened to from start to finish. As a Celtic scholar, and in her spiritual practice, Leslie has researched the ogham (in OI: ogam), studied Old, Middle & Modern Irish, and handcrafted multiple sets of feda (traditionally, short, slender, wooden sticks inscribed with ogham letters). 
With specific guidance from Erynn Rowan Laurie's book, Ogam: Weaving Word Wisdom, each phase of this sonic Journey (song + card) has been infused by an ogham fid, one of 20 symbols of an early Irish alphabet used for study, composition and divination by poets, historians, druids & anyone trained to understand them.
Every song is associated with the Mysteries of an ogham fid, indicating the deep lesson to be learned on that step of the Journey. The oracle cards map out the path to be walked, from Blessing to Returning. Together - song, card & fid - form a triad of ancient wisdom brought forward into the present.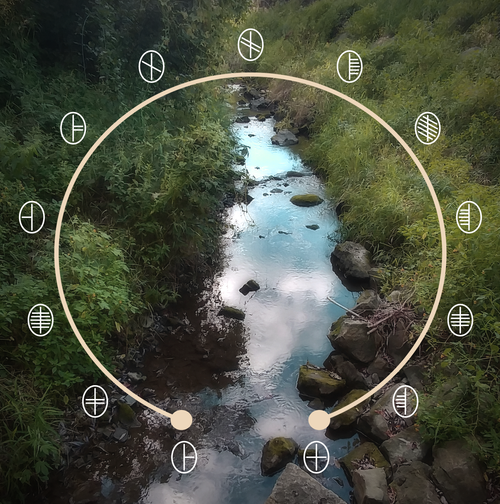 13 songs for 13 steps on a Journey into Faerie, inspired by Leslie Hudson's 6-month, international Goddess Revolution Tour & cards from the Heart of Faerie Oracle by Brian & Wendy Froud
 

For those who may choose to create a practice or ritual inspired by this work, here are the song, oracle card & ogham fid associations (see Ogham Wheel diagram for symbols)
song: Perfect Storm
card: The Blessing
fid: Beith ("birch" - Purification)
song: Tetherless
card: The Leaving
fid: Onn ("foundation" "wheel" - Movement)
song: Unsaved
card: The Remembrance
fid: Idad ("age" - Memory)
song: This Isn't You
card: The Challenge
fid: h-Ú

ath ("terror" - Despair)

song: Locked and Loaded
card: The Joy of the Future
fid: Lus ("flame" "herb" - Inspiration)
song: Shatter Scatter Pattern
card: The Shadow of the Past
fid: Muin ("love" "esteem" "trickery" - Communication)
song: Just Be
card: The Song
fid: Gort ("garden" - Growth)
song: Ask Who I Am
card: The Question
fid: Nin ("letters" "support" - Connection)
song: (I Gotta) Bow My Head 
card: The Temptation
fid: Ruis ("redness" - Passion)
song: Catalyst
card: The Hope
fid: Ceirt ("rag" "shrub" - Misfortune)
song: Stargazer
card: The Dreaming
fid: Edad (no meaning in Irish - Vision)
song: Motherblood
card: The Gift
fid: Coll ("hazel" - Wisdom)
song: Metamorphosis
card: The Returning
fid: Ailm ("cry" - Inception)
Touring
The Goddess Revolution Tour travelled through 48 states & 3 provinces, with shows in IN IL MN MB ON NY NC AL OK NM CO WY UT MT WA OR CA AZ TX NJ OH DE PA & MI
On the road from June to November, Leslie shared stages with dozens of musicians from the US, Canada & Europe, driving coast to coast and border to border
"Perfect Storm" (The Blessing) was written just before the tour began in 2017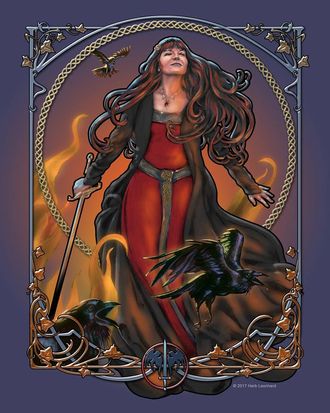 Funding
Keep Left at the Fork was crowdfunded by Leslie's first Kickstarter campaign in 2019. It raised more than $11.5K CAD and included the work of 7 fine artists in clay, textiles, jewellery, ink, paint, and sculpture, from Canada & the US. Each artist created unique offerings inspired by songs on the album
The album was available exclusively on her Faerie Ring Tour and to the folks who backed the campaign, until its public release in March 2020